Watch what you say or they'll be calling you a radical, a liberal, fanatical, criminal...
Last
Wednesday
I showed two projects whose fate was then undecided. It's done been done now. The blue blob floating in the frog pond has been rewound and partially reknit. The next peek at Mystery Tank #8 -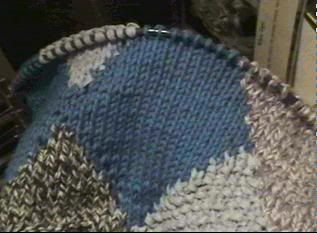 Not much has happened since - I ran out of purple. Aw, I have to stop by Hobby Lobby this afternoon? What a chore.
The other project from that post has since been finished! It's in need of a good blocking and the flash turned the floor green, but the design shows pretty well -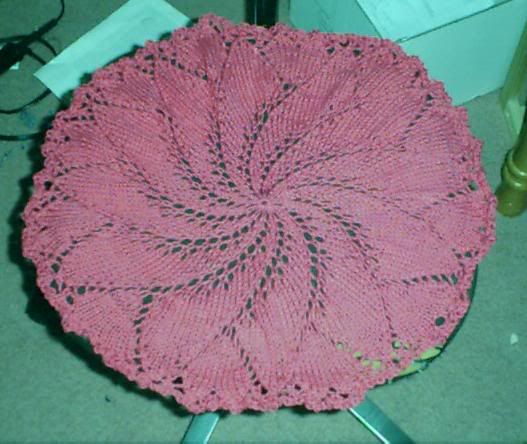 Part of "Heart Doily" from Nicky Epstein's "Knitting for Your Home". Like most doily patterns, it called for fine yarn and #1 dpns. I used dishcloth cotton and quit after 44 of 74 rounds. I'd really love to do a doily in the proper size, but I'm holding off until I find Addis in that size and long enough to use for lace also. (Any disenchanted Magic Loopers have a spare #0 or #1 in 47" or 60"? I'll love you forever.)
Thank y'all all for the kind comments about the cardi! On a totally tangential note, for as long as I've been working on the raglan I've not shown or mentioned it to anybody at the SnB. It'll be interesting this evening to see what the regulars say. I'll spare y'all my predictions on who will say what.
Yoinked from
Stephy
,
Helen
,
Joeli
, and
Smoochies
. Like Stephy, I'm doing Jimmy Buffett (teeheehee)... but to make it a bit harder, I'm only using songs I have on LP.
Are you a male, or female: Railroad Lady
Describe yourself: Mañana
How do some people feel about you: Lady I Can't Explain
How do you feel about yourself? Trying to Reason with Hurricane Season
Describe your family: Peanut Butter Conspiracy
Describe your current girlfriend/boyfriend:
Describe where you want to be: Livingston's Gone to Texas
Describe what you want to be: Stranded on a Sandbar
Describe how you live: Grapefruit/Juicy Fruit
Describe how you love: Come Monday
Share a few words of wisdom: Life is Just a Tire Swing
As if having a thing like that in this post couldn't be bad enough... gratuitous cat pictures! This is Freckie, the unfortunate male middle cat.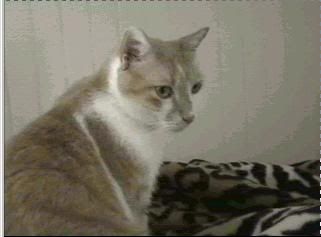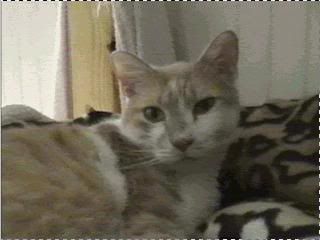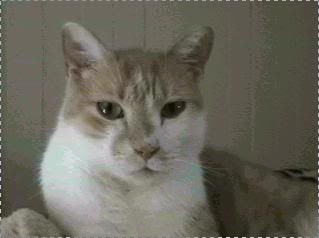 Ana
, my beloved bidding-doing droogie, has a picture up of her new housemate. Go bug her.